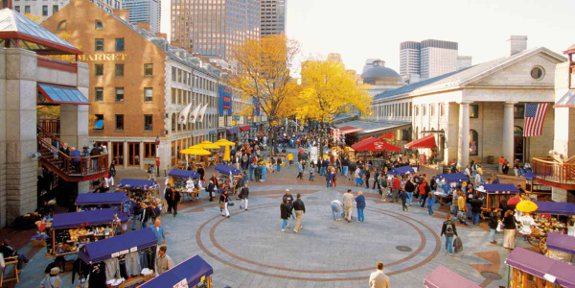 If you are visiting Boston, Faneuil Hall Marketplace is a must see.
Located in downtown Boston, near the waterfront and Government Center, Faneuil Hall Marketplace has been a marketplace and meeting hall since 1743. It is now part of Boston National Historical Park and a well-known stop on the Freedom Trail. It is sometimes referred to as "the Cradle of Liberty".
Specifically, Faneuil Hall Marketplace is really four places in one location – Faneuil Hall, Quincy Market, North Market and South Market. They are all set around a cobblestone promenade where jugglers, magicians and musicians entertain the passers-by. Visitors are welcome to stroll, shop, eat and explore everything that is around them.
There is a lot to explore. There are over 70 retailers and 40 office tenants in the 200,000 square feet of retail, and 160,000 square feet of space on Boston's festival marketplace.
Here, visitors can enjoy nationally recognized shops, while indulging in the worldwide cuisine of the restaurants, pubs, and in the infamous Quincy Market Colonnade. Every day, the cobblestone promenades are filled with the music and the awesome performances of street performers and musicians.



Public Art
If you are a history buff, you will enjoy the area between the eastern end of Faneuil Hall and Congress Street which is part of Boston National Historical Park. In this landscape is a 19th-century sculpture of Samuel Adams. The granite plaza surface is marked for 850 feet with the approximate location of the early Colonial shoreline. The street layout and building plot plan designations from an 1820 map are shown by etched dashed lines and changes from pink granite to grey granite paving slabs. The shoreline marking artwork entitled, "A Once and Future Shoreline," is made with etched silhouettes of seaweed, sea grass, fish, shells and other materials found along a high tide line.
Art within Faneuil Hall includes many paintings and sculpture busts of Revolutionary War activists, pre Civil War abolitionists, and political leaders.
Faneuil Hall Marketplace
Address:
4 S Market St, Boston, MA 02109