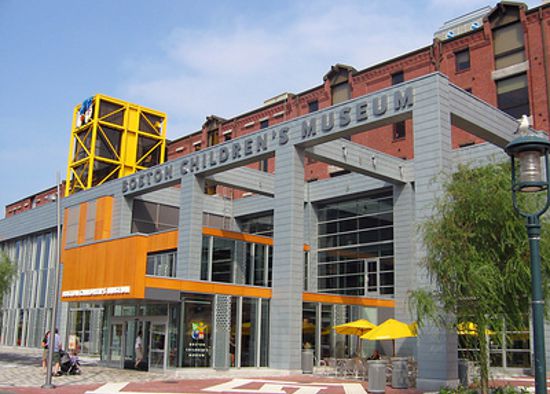 If you have kids, and even if you don't, you will enjoy a visit to Boston Children's Museum. It is one of the most popular attractions in the city, visited every day by old and young alike.
Boston Children's Museum is the second oldest children's museum in the United States. It is located on Children's Wharf along the Fort Point Channel. Founded in 1913 as a center for the exchange of materials and ideas to advance the teaching of science, the Boston Children's Museum has been engaging children in experiences that motivate and inspire them to develop unique skills, and to encourage them to learn and explore.
Exhibits and Programs
Boston Children's Museum is one of the few children's museums in the world to maintain a collection. It's collections of Americana, Natural History, Global Culture, Native American, Dolls and Dollhouses, and Japanese artifacts encompass more than 50,000 items.
There are also many exhibits at the Museum, including Arthur & Friends, The Common, and Boston Black… A City Connects. Visitors also get to see What's Inside,1960s, the world's first "hands-on" exhibit; PlaySpace, 1970s, the world's first exhibit designed for very young children; Bubbles and Raceways, 1980s; and Kids Bridge and Teen Tokyo, 1990s. Museums all across the country host exhibits created by Boston Children's Museum. Their programs attract visitors from all across the continent.



Visitor Services & Information
Boston Children's Museum wants visitors to enjoy a wonderful Museum experience. Visitor Services Managers are always available to assist visitors with any questions.
Boston Children's Museum
Address:
308 Congress Street
Boston, MA 02210
617.426.6500
Hours:
Saturday-Thursday 10am-5pm
Fridays 10am-9pm
Admission:
Adults: $16
Children (1-15): $16
Children (Under 12 months): FREE
Members: FREE