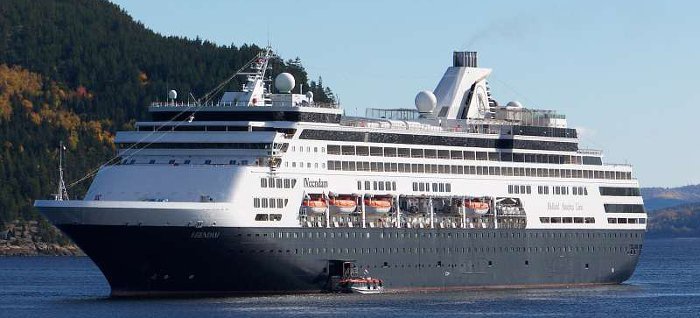 ms Veendam – Holland America Line
This 57,092-ton, 1,350-passenger ship underwent some major restorations in 2009, adding a new lanai and spa cabin categories, a more modern look in public areas and cabins, more dining options and a upgraded theater. Veendam, however, still retains all of its glory and tradition. For example, its signature has been its intimate atmosphere and retreats, where passengers can enjoy a quiet moments. You can still have all that. Whether at the Explorations Cafe, the Crow's Nest or Explorer's Lounge, the Deck 6 promenade or one of the many outer decks up the bow of the ship. The only time you really feel the crowds is when show up for dinner at the Rotterdam Dining Room or the Lido Restaurant.
The ship's $2 million art collection helps to maintain an elegant and traditional feel, with the magnificent antique Delft, marble busts, armor and paintings of old Holland America ships on display. Te Nightlife has also been upgraded. The open plan of Deck 8 creates a better vibe in the evenings when the energy of the casino spills over into the bar area, and shoppers are lured across the walkway to the piano bar when they hear a favorite tune.
Holland America's ms Veendam has a variety of programs and features that make this ship a destination in her own right. Check out the Digital Workshop, where you can learn how to edit digital photographs. If you'd rather relax, stop by The Retreat. This relaxing poolside lounge is perfect for that, especially in warmer weather. Mix is the most popular nightlife spot onboard. It combines a champagne bar, martini bar and spirits & ales pub. And last but not least, your own spacious stateroom could be your favorite spot aboard the ms Veendam, because where else can you sleep as log as you like?
Passenger Capacity: 1,266
Year Built: 1996
Last Refurbished: 2011
Length: 719′
Beam: 101′
Builder: Fincantieri
ms Rotterdam – Holland America Line
Launched in 1997, Rotterdam is the sixth in a line of Holland America flagships and it shows. Built in Italy in 1997, Rotterdam features fine art and antiques, an internet center, and a spa and fitness center. It is one of the two Atlantic flagships of the fleet.
Like her five classic predecessors, Rotterdam is more of a throwback to earlier cruise ships compared to most mega ships built after 1995. However, the Rotterdam does a fine job of merging that sometimes fine line between classic and modern.
Highlights of the Rotterdam include: some of the largest cabins afloat; more outside cabins that feature verandahs; upscale alternative dining in the Pinnacle Grill; and the Explorations Cafe. Even a library, Internet cafe and coffee bar all wrapped into one popular hangout. Continuing the history of the Rotterdam ships, there are fascinating Holland America memorabilia, art and antiques onboard.
Once you're onboard, you are invited to unwind to the limit. During your cruise, you' can wander around the decks and indulge in whatever activity you please.
The special Lanai rooms, like all aboard Holland America's ships, include Euro-Top mattresses and Egyptian cotton towels. There are sliding glass doors that lead right out to the lower promenade deck where you can sit and enjoy a glass of wine while looking out over the sea.
Passenger Capacity: 1,316
Launched: December 21, 1996
Last Refurbished: 2009
Length: 778′
Beam: 106′
Builder: Fincantieri
Book Holland America Line Now